Orders are due by 9pm on Thursdays for pick-up/delivery the following Monday.
Items are gluten free & dairy free unless otherwise noted.
Items are available Family-Style (i.e. 2+ servings packaged together). Type "Family-Style" in the special instructions box.
Items are packaged in microwaveable containers. If aluminum packaging is desired, please make a note in the special instructions box.
** signifies that the item can be frozen.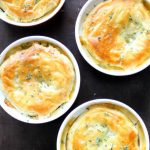 A) Chicken Pot Pie** (choice of one side dish included)
Roasted chicken, carrots, peas, whole baby onions, parsley, chicken broth, onion, butter, gf flour, coconut milk with a puff pastry topper. GF by request and…
B) Salmon Cakes with Tartar Sauce over Arugula** (choice of one side dish included)
Cakes made from salmon, GF breadcrumbs, egg, mayo, lemon juice, bell pepper, green onion, celery.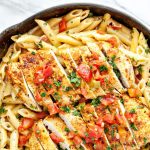 C) Family-Style Entrée: Creamy Taco Alfredo** (2-servings)
Penne pasta, grilled seasoned chicken breast in a cream sauce made from cream, Mexican cheese, chopped tomatoes & cilantro. GF by request - check box…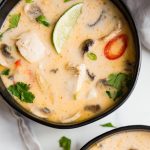 D) Tom Kha Soup**
Coconut oil, onion, garlic, mild Thai chiles, ginger, lemongrass, mild red curry paste, chicken broth, coconut milk, chicken, mushrooms, sugar, fish sauce, kaffir lime leaves,…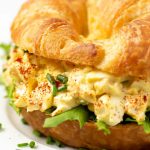 E) Sun-Dried Tomato Basil Egg Salad Croissant Sandwich with Fresh Fruit
(GF lettuce wrap by request - check box below)  (DF sandwich bread by request - check box below)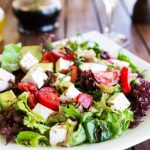 F) Mediterranean Chopped Salad with Tuscan Herb Vinaigrette
Spring mix, cherry tomatoes, cucumbers, kalamata olives, fresh basil, sun-dried tomatoes, feta.  (DF by request - check box below)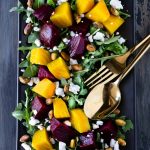 G) Roasted Beet & Goat Cheese Salad with Orange Balsamic Vinaigrette
Beets, salad greens, goat cheese and pistachios.  (DF by request)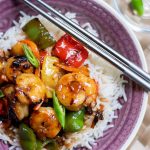 H) Sweet & Sour Prawns over Steamed White Rice**
Jumbo prawns, bell pepper, pineapple, shredded carrot, and sweet onion in a sweet and sour sauce.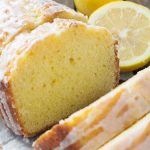 I) Starbucks Copycat Lemon Loaf** (4 slices)
(contains: almonds) **This item is NOT available DF**