Orders are due by 9pm on Thursdays for pick-up/delivery the following Monday.
Items are gluten free & dairy free unless otherwise noted.
Items are available Family-Style (i.e. 2+ servings packaged together). Type "Family-Style" in the special instructions box.
Items are packaged in microwaveable containers. If aluminum packaging is desired, please make a note in the special instructions box.
** signifies that the item can be frozen.
A) Italian Stuffed Flank Steak** (choice of one side dish included)
Flank steak, roasted red peppers, prosciutto, parsley, basil, parmesan cheese. DF by request - check box below
B) Grilled Salmon topped with Meyer Lemon Dill Butter** (choice of one side dish included)
DF by request - check box below
C) Family-Style Entrée: : Loaded Chicken Bubble Up Bake** (2 servings)
Comfort food at its finest! Biscuit pieces combine with shredded chicken, bacon, cheese, and more into a flavorful meal! Roasted chicken, sour cream, cheddar cheese,…
D) Coconut Curry Lentil Soup**
Lentils, coconut milk, chicken stock, sweet potatoes, kale, onions, garlic, ginger, cinnamon.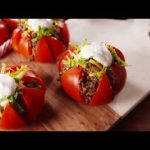 E) Taco Stuffed Tomato served with Homemade Corn Tortilla Chips, Fresh Salsa & a Lime Wedge
Fresh tomato stuffed with seasoned ground turkey, sautéed onion & black beans, topped with shredded cheddar cheese, sour cream & green onions, on a bed…
F) Chopped Greek Salad & Herbed Red Wine Vinaigrette
Romaine, chickpeas, cucumbers, tomatoes, kalamata olives, feta cheese, bell peppers, pine nuts. DF by request - check box below
G) Spinach Salad with Bacon, Egg, Mushrooms and Honey Dijon Dressing
H) Mongolian Chicken & Green Beans w/Jasmine Rice**
Tender chicken breast bites sautéed in a sweet & mildly spicy Asian sauce.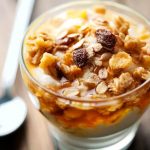 I) Carrot Cake Yogurt Parfait w/Walnut Raisin Granola
Homemade carrot cake marmalade layered with greek yogurt. DF by request (add $2) - check box below