Orders are due by 9pm on Thursdays for pick-up/delivery the following Monday.
Items are gluten free & dairy free unless otherwise noted.
Items are available Family-Style (i.e. 2+ servings packaged together). Type "Family-Style" in the special instructions box.
Items are packaged in microwaveable containers. If aluminum packaging is desired, please make a note in the special instructions box.
** signifies that the item can be frozen.
A) Veggie Ratatouille** (choice of one side dish included)
Onion, zucchini, eggplant, red peppers, rosemary, thyme, tomatoes, bay leaf, garlic simmered in a rich, sweet tomato sauce.
B) Chicken Tikka Masala** (choice of one side dish included)
Boneless skinless chicken thighs, paprika, garam masala, cumin, coriander, turmeric, cayenne, fresh ginger, cloves, olive oil, topped with cilantro.  (DF by request - check box…
C) Family-Style Entrée: Easy Cheesy Breakfast Casserole** (2 servings)
Breakfast sausage, onion, bell peppers, garlic, diced hash browns, cheddar cheese, eggs, milk.  (DF by request - check box below)
D) Creamy Bleu Cheese Potato Soup drizzled with Truffle Oil**
Yukon gold potatoes, cream, onion, garlic, chicken stock, bleu cheese.  **This item is not available DF**
E) Vietnamese Banh Mi Sandwich served with Maui Sweet Onion Chips
Seasoned lemongrass chicken, pickled carrot & daikon radish, sliced cucumbers, cilantro, mild sriracha mayo on side on a french roll.  (DF by request/GF by request …
F) Summer Goddess Salad with Creamy Avocado Dressing
Romaine, bibb lettuce, green beans, corn, parsley, chives, mint, fried onions.
G) Heirloom Tomato Caprese Salad with Balsamic Reduction
(DF by request - tomato/basil salad - check box below)
H) Baked Pesto Salmon with Parmesan Risotto**
(DF by request - steamed white rice - check box below)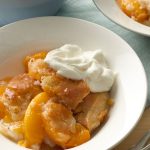 I) Peach Pear Cobbler**
**This item is not available DF**